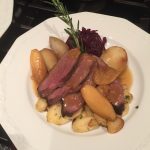 Monday to Friday two main courses will be offered
(one meatless option)
Monday August 10
Chicken émincé with black lentils simmered in red wine sauce.
Wild mushroom and red wine risotto, iceberg lettuce heart with home made ranch dressing.
Tuesday August 11
Sautéed lamb with zucchini and mushrooms with piquant parmesan crumble.
Roasted pepper, goat cheese and basil pasta
Wednesday August 12
Sole fillet with sweet pea sauce, roasted peppers, basmati rice.
Braised chickpea and spinach seasoned with smoked paprika and garlic.
Thursday August 13
Roast pork and roasted parsnips with harissa, mashed potatoes.
Sautéed eggplant with tofu, cucumber and peanut sauce.
Friday August 14
Stir fry beef with tomatoes and olives over fettuccine with fresh parmesan.
Sweet potato torte with quinoa, garden vegetables, herbs with creamy yogurt sauce.
Monday August 17
Chicken fricassé with olives and grape tomatoes, roasted pepper sauce.
Vegetarian moussaka, romaine hearts with an oregano lemon dressing
Tuesday August 18
Spicy grilled middle Eastern lamb patties served with pita yogurt, bulgur salad.
Clafoutis with zucchini, cherry tomatoes and olives served with a carrots and raisin salad.
Wednesday August 19
Traditional British pub beef, ale and mushroom pot pie, crispy iceberg lettuce.
Vegan shepherds pie with squash, chick peas and tomatoes.
Thursday August 20
Pecan coated pork tenderloin, sautéed apple demi-glace sauce, celeriac mash.
Squash and mushrooms sunflower seed "risotto".
Friday August 21
Salmon fillet, white wine and tarragon sauce, rice pilaff, medley of summer vegetables.
Falafel mushroom loaf, lemony tahini sauce
The cost is $22.50 per person. Children 12 and under $14.00. There is $5.00 fee per delivery. The HST is extra. Payment can be done by cash, credit card, or e-transfer. I need a one day advance notice in order to organize the meals and the delivery route. Ordering for the week : 10% off Reservation by phone at 613-860-2539 or email : erick@dialachef.ca
Now that we can have groups of up to 50 people inside, and 100 outside, LET'S PARTY! (safely) I can arrange tents and all the party needs.
Call now to make arrangements for your reception.