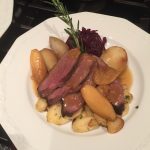 Tuesday to Friday two main courses will be offered
(one meatless option)
This week's soup: Rustic vegetable chowder (extra $5)
Tuesday January 12
Baked salmon fillet atop white kidney beans, spinach & leeks. Steamed potatoes.
Sautéed pirogies with peas and golden beets, Winter green.
Wednesday January 13
Turkey stuffed Savoy cabbage. Carrots & beans
Quinoa, lentils, mushroom stuffed Savoy cabbage rolls, Carrots and beans.
Thursday January 14
Egg, cheese spinach stuffed meatloaf in tomato sauce, creamy mash potatoes.
Stuffed veggie loaf with eggs, spinach, cheese and mushroom, creamy mash potatoes.
Friday January 15
Sauerbraten with braised red cabbage, potato pancake.
Sauerbraten marinated tofu, with braised red cabbage and potato pancake.
In celebration of Robbie Burns day,
Monday January 25, a special Scottish inspired meal.
Cock a leeky soup,
Home made haggis with whiskey sauce
(vegetarian option available),
Mash turnips and potatoes
Taffy pudding, butterscotch sauce.
$30.00 plus HST
---
Sunday February 14,
A special aphrodisiac food dinner. …
Although I cannot guaranty the results,
I can guaranty a very good dinner.
This week's soup:  Chunky creamy chicken soup (extra $5)
Tuesday January 19
Spicy chicken tajine, with artichoke, courgettes and eggplant over mint scented couscous.
Artichoke, courgettes, eggplant and vegetable tajine, over mint scented couscous.
Wednesday January 20
IPA braised lamb pie, with mushrooms, onions and potatoes. Mixed green.
Winter green puff pie with mascarpone cheese, Mixed green
Thursday January 21
Homemade pork sausage with winter mash and onion gravy.
Homemade vegetarian sausage with winter mash and onion gravy.
Friday January 22
Pan fried steelhead trout, peas and chorizo fricassé, steamed potatoes.
Peas and sun-dried tomato risotto with parmesan and pine nuts, Romaine heart salad.
The cost is $23.50 per person. There is $5.00 fee per drop. The HST is extra. Payment can be done by cash, credit card, or e-transfer. I need a one day advance notice in order to organize the meals and the delivery route. The delivery time in the Ottawa will be early afternoon, in the Kemptville area, mid afternoon. Ordering for the week : 10% off Reservation by phone at 613-860-2539 or email : erick@dialachef.ca
Cold day? Have a soup to go with your meal, $5.00 plus HST.
Covid-19 second wave, stay home and have Dial A chef deliver your dinner.