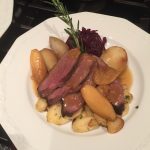 Tuesday to Friday two main courses will be offered
(one meatless option)
Pre-order your tourtière for Christmas.
Serves 4, $20.00 + HST.
Fully cooked.

Ready on the 21st of December
This week's soup : Celery root velouté with Madeira wine ($5.00 extra) Tuesday December 1st
Shrimps, scallops, mussels pasta casserole in tomato sauce. Spinach salad
Quinoa and vegetable ragout in tomato sauce. Spinach salad
Wednesday December 2nd
Garlic encrusted roasted leg of lambs, white kidneys beans & potatoes.
White kidney beans carrots, garlic crusted gratin. Side salad.
Thursday December 3rd
Braised osso-bucco in white wine and mushroom, Parmesan risotto.
Mushrooms, leeks & tomato risotto, Romain hearts, creamy herb dressing.
Friday December 4th
Lemon Parmesan crusted baked salmon, rice & vegetable.
Lemon parmesan tofu escalope, rice & vegetable.
This week's soup : Slow cooked beans and vegetable soup ($5.00 extra) Tuesday December 8
Poached chicken breast, Supreme sauce, steamed vegetable & potatoes.
Camembert and potato tart, endive radicchio salad.
Wednesday December 9
Prune stuffed roast loin of pork, creamy mash potato, vegetables.
Vegan stuffed acorn squash with chick peas, roasted peppers & tomatoes .
Thursday December 10
Braised beef with carrots in red wine sauce, egg noodles.
Braised winter vegetables in red wine sauce, egg noodles.
Friday December 11
Fish curry in coconut milk, Basmati rice.
Tofu and eggplant curry, Basmati rice.
The 11 days of Christmas
Includes choice of soup or salad and choice of dessert. Meals come with homemade baguette.
Apple cider onion soup
Or
Turkey vegetable noodle soup (available after Christmas)
Or
Hot Bloody Mary Soup
***********
December 24 & 25 :
Turkey dinner, includes stuffing, sweet potato mash, carrots, Brussels Sprout, cranberry sauce & gravy.
December 26 :
Roast prime rib of beef, creamy scallop potatoes, carrots, broccoli, horseradish and le gravy au jus.
December 27 :
Duck leg confit, Salardaise potatoes, green beans. (limited quantities, order fast).
December 28 :
Salmon fillet poached in red wine, with mushrooms and glazed pearl onions, steamed potatoes.
December 29 :
Roasted Cornish hen, orange cranberry sauce, wild rice & vegetables.
December 30 :
Shrimps, scallops, clams and mussels ragout in a light creamy cari sauce, rice.
December 31 :
Surf & turf ( Beef tenderloin peppercorn sauce, broiled lobster tail in garlic), croquette potatoes, vegetables.
January 1st :
New year day brunch : assortment of croissants and muffin, Cinnamon oatmeal French toasts, poach egg with red wine mushroom sauce, home made sausages, home fries, apple syrup crêpe.
January 2nd :
Roasted chicken with red wine and mushroom sauce, Duchesse potatoes & vegetables.
January 3rd :
Slow braised lamb shoulder with winter vegetables and potatoes.
***********
Chocolate mint trifle
Or
Mince meat tart
Or
Pumpkin cheesecake
$42.50 per person, plus HST $5.00 delivery fee.
The cost is $23.50 per person. There is $5.00 fee per drop. The HST is extra. Payment can be done by cash, credit card, or e-transfer. I need a one day advance notice in order to organize the meals and the delivery route. The delivery time in the Ottawa will be early afternoon, in the Kemptville area, mid afternoon. Ordering for the week : 10% off Reservation by phone at 613-860-2539 or email : erick@dialachef.ca
Cold day? Have a soup to go with your meal, $5.00 plus HST.
Covid-19 second wave, stay home and have Dial A chef deliver your dinner.