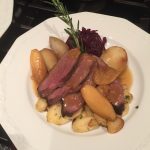 Monday to Friday two main courses will be offered
(one meatless option)
Monday June 29
Crispy paprika chicken with tomatoes & lentils
Roman style gnocchi, cheese and spinach sauce, summer mix
Tuesday June 30
Brined and grilled pork chop, spice fried potatoes and green beans
Summer zucchini and peas risotto (vegan), fig and radicchio salad
Wednesday July 1st       Canada Day Special
Lobster roll Canadian beef tenderloin, Ontario red wine reduction. Maple glazed salmon fillet Nanaimo bar
$32.50 per person, plus HST
Thursday July 2
Bouillabaisse style fish ragout
Warm niçoise salad (optional tuna and anchovies)
Friday July 3
Greek spices slow roast lamb shoulder and Orzo
Brown rice with lentils and caramelized onions
Monday July 6
Asian eggplant and pork hot pot.
Halloumi cheese stuffed peppers, corn salad
Tuesday July 7
Duck breast skewers, with fresh plum sauce, rice and vegetables.
Vegetarian Wellington, red cabbage salad.
Wednesday July 8
Garlic beef, garlic potatoes, tomato Provençale.
Butternut squash and sage risotto, Summer mix salad.
Thursday July 9
Chicken in mushroom & tarragon sauce, buttered noodles.
Slow roasted tomatoes and Gruyère tart, mint & cucumber salad.
Friday July 10
Fish Shepard's pie with Cheddar gratin, dandelion salad.
Satay sweet potato curry, rice and asian vegetables
The cost is $22.50 per person. Children 12 and under $14.00. There is $5.00 fee per delivery. The HST is extra. Payment can be done by cash, credit card, or e-transfer. I need a one day advance notice in order to organize the meals and the delivery route. Ordering for the week : 10% off Reservation by phone at 613-860-2539 or email : erick@dialachef.ca
Now that we can have groups of up to 10 people.
Perhaps it is time to have friends and family over for a stress free Dinner.
It has been such a long time!
Call now to make arrangements for your reception.