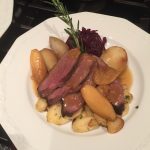 Tuesday to Friday two main courses will be offered
(one meatless option)
This week's soup: Chicken, mushroom and wild rice ($5.00 extra)
Tuesday February 16 – Shrove Tuesday
Chicken, bacon, tomato and onion crêpe… A club sandwich in a buckwheat crêpe, side salad.
Goat cheese, sun dry tomato, pine nut buckwheat crêpe, pizza style topped with arugula, side salad.
Sweet crêpe (included) : Berry, chocolate & mascarpone mousse
Wednesday February 17
1- Pork loin emincé, caramelized onion and balsamic vinegar. Carrot purée
2- Sautéed artichoke, spinach, caramelized onion and Balsamic vinegar. Carrot purée
Thursday February 18
Provençal fisherman stew, polenta dumplings
Provençal vegetable stew, polenta dumplings.
Friday February 19
Chicken Jambalaya style, with shrimps and Chorizo. Cajun corn and kale salad.
Vegan jambalaya with peppers, okras & tofu. Cajun corn and kale salad.
St. Patrick's Day Special Dinner
Cod, bacon and smoked salmon chowder.
24 hours slow cooked lamb shank, Colcannon and carrots.
Guinness and chocolate mousse topped with Baileys Irish cream.
Soda bread.
$35.00 per person plus HST and delivery.
Sunday April 4th
Easter brunch
(subject to change)
Dill and Brandy gravlax on a bagel,
Home made cinnamon brioche, Croissants.
Rum spiked tropical fruit salad.
Egg Benedict Quiche,
Spinach salad with bacon and croutons.
Homemade maple sausages
Home fries with duck confit.
Tarte au chocolat
$30.00 per person, plus tax and delivery
This week's soup: Beef, barley and red wine soup. ($5.00 extra)

Tuesday February 23
Orzo risotto with chicken and mushroom. Radicchio, spinach and endive salad.
Zucchini, mushroom and parmesan orzo risotto. Radicchio, spinach and endive salad.
Wednesday February 24
Pork loin emincé in a tomato, onions and anise sauce over farfale pasta, side salad.
Sautéed peppers, onions, tomato and anise over farfale pasta, side salad .
Thursday February 25
Snapper fillet, green olives tapenade, Basmati rice, garlic & herbs Zucchini.
Green olives, grape tomato and feta frittata, arugula salad
Friday February 26
Pesto crusted roasted leg of lamb, scallop potatoes in thyme broth. Green beans
Mediterranean spaghetti squash with pesto, beans and peppers.
The cost is $23.50 per person. There is $5.00 fee per drop. The HST is extra. Payment can be done by cash, credit card, or e-transfer. I need a one day advance notice in order to organize the meals and the delivery route. The delivery time in the Ottawa will be early afternoon, in the Kemptville area, mid afternoon. Ordering for the week : 10% off Reservation by phone at 613-860-2539 or email : erick@dialachef.ca
Cold day? Have a soup to go with your meal, $5.00 plus HST.
Covid-19 second wave, stay home and have Dial A chef deliver your dinner.