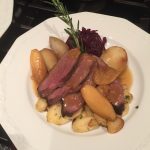 Tuesday to Friday two main courses will be offered
(one meatless option)
Tuesday, May 4
Mariposa Farm Duck magret on a skewer, in a hoisin ginger marinade, sesame coated, Sautéed bok choy and
rice.
Grilled vegetable and halloumi cheese, Balsamic reduction, Crispy romain, Parmesan vinaigrette.
Wednesday, May 5 (Cinco de Mayo, Celebration of Mexican heritage. It commemorates the date of
the Mexican army's victory over France at the Battle of Puebla in 1862)
Tamale pie (beef), Salsa and guacamole, Mexican salad .
Vegetarian tamale pie, Salsa and guacamole, Mexican salad .
Thursday, May 6
Baked tilapia fillet, Capers sauce Rose, Basmati rice and vegetables.
Baked tofu, Capers sauce Rose, Basmati rice and vegetables.
Friday, May 7
Homemade corned beef with cabbage, carrots and potatoes.
Vegetarian cabbage rolls in tomato and cheese sauce, Steamed potatoes
Sunday, May 9
Mother's Day dinner special
Creamy asparagus velouté
Beef tenderloin wild mushroom and truffle sauce
Croquettes potatoes, vegetable medley
Strawberry and chocolate parfait
$40.00  per person, plus tax and delivery
Sunday, May 23rd
A classic mid afternoon Victoria high tea

The sandwiches
Lemony crab and cucumber club,
open face smoked salmon and avocado,
Coronation chicken sandwich, eggs and chives,
Apple bourbon finger sandwiches
The scones
Old cheddar buttermilk scones
blueberry scones, with jam and clotted cream.
The canapés
Mini chicken pot pie,
chèvre and walnut tartlet,
Waldorf skewers,
sausages rolls,
goat cheese crostini.
The petits fours
Lemon drizzles slices,
chocolate éclairs,
mini fruit flans,
chocolate cranberry
cheesecake bar.
Cost is $25.00 per person (minimum 2 persons), plus delivery and HST.
Coming Specials
Sunday, June 20th
Father's day BBQ menu.
Thursday, July 1st
Celebrate Canada Birthday with a selection of food from
coast to coast.
Tuesday, May 11
One pot chicken drumstick with chickpeas, mint and raisins.
One pot chickpeas with rice, mint and raisins in coconut milk, mango cilantro salad
Wednesday, May 12
Spinach and meat lasagna with ricotta cheese, Cesar salad.
Vegetarian lasagna, spinach and ricotta cheese, Cesar salad.
Thursday, May 13
Creamy Tuscan salmon with grape tomatoes and basil, Arborio rice.
Creamy Tuscan tofu, with grape tomatoes and basil, Arborio rice.
Friday, May 14
Lamb moussaka, Greek salad.
Vegetarian moussaka, greek salad
A few kitchen tips
Preheat your oven 25 ̊F higher, as you loose heat every time you open the oven door, then set the thermostat to the
desired temperature after you put your food in.
Make your vinaigrette in plastic squeeze-able bottle, it is easy to shake, and easy to store.
Wash your fresh herbs and wrap them in paper towel and store in an open plastic bag in the fridge, they will keep
crisp and fresh for longer.
Keep your knives sharp. A dull knife is dangerous for your fingers. Do not store your knives loose in the drawer.
Use a knife holder or a wall mounted magnet strip.
Do not add too much salt at first, taste as you progress the recipe and adjust as necessary. It easier to add salt than
removing it.
The cost is $23.50 per person. There is $5.00 fee per drop. The HST is extra. Payment can be done by cash, credit card, or e-transfer. I need a one day advance notice in order to organize the meals and the delivery route. The delivery time in the Ottawa will be early afternoon, in the Kemptville area, mid afternoon. Ordering for the week : 10% off.  Reservation by phone at 613-860-2539 or email : erick@dialachef.ca