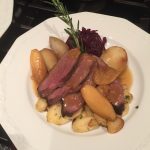 Tuesday to Friday two main courses will be offered
(one meatless option)
Tuesday September 22
Homemade bangers and mash, onion gravy, sautéed carrots.
Beans and halloumi cheese stew, side salad.
Wednesday September 23
Chicken scallopini, creamy spinach sauce, basmati rice.
Sweet and sour tofu, stir fry of vegetables, basmati rice.
Thursday September 24
Sautéed beef in creamy white wine and pearl onions over fettuccine.
Roasted vegetable fusilli casserole, Romaine hearts, lemon dressing.
Friday September 24
Polenta, topped with haddock in a piperade sauce (peppers).
Creamy butternut squash polenta, topped with piperade .
All meals will come with the appropriate side (potatoes, rice, couscous, vegetables, side salad
Tuesday September 29
Roast beef, mash potatoes, root vegetables.
Polenta skewers, tomato and roasted pepper coulis, Boston & Radicchio salad.
Wednesday September 30
Chicken and vegetable tajine, couscous.
Moroccan lentils and chick peas stew, Couscous.
Thursday October 1
Lasagna with ham, béchamel and cheese sauce, mix green, Italian dressing.
Buckwheat crêpe lasagna with spinach and tomato sauce, mix green with vegetables, Italian dressing.
Friday October 2
Sesame crusted salmon fillet, teriyaki sauce, rice, oriental vegetables.
One pot tandoori quinoa, Indian style cucumber salad
All meals will come with the appropriate side (potatoes, rice, couscous, vegetables, side salad, etc…)
The cost is $23.50 per person. There is $5.00 fee per drop. The HST is extra. Payment can be done by cash, credit card, or e-transfer. I need a one day advance notice in order to organize the meals and the delivery route. The delivery time in the Ottawa will be early afternoon, in the Kemptville area, mid afternoon. Ordering for the week : 10% off Reservation by phone at 613-860-2539 or email : erick@dialachef.ca
Book your Thanksgiving dinner now
(October 11 and 12)
Butternut Squash soup, Turkey and all the trimmings, Pumpkin pie
$30.00 per person plus delivery HST extra
It is not too early to book your Christmas party
Now that we can have groups of up to 50 people inside, and 100 outside, LET'S PARTY! (safely) I can arrange tents and all the party needs.
Call now to make arrangements for your reception.