The Last Supper on the Titanic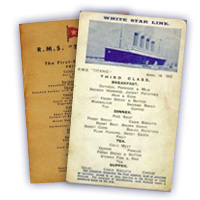 Board the Titanic and enjoy the last supper served on that fateful Sunday night in the first class dining room.
Canapéà L'Amiral
Oyster à la Russe
Consomme Olga
Poached Salmon Mousseline
Filet Mignon Lili
Chicken Lyonnaise
Lamb with mint sauce
Calvados
Glazed duckling with apple sauce
Pommes Chateaux
Minted green pea timbale's
Creamed carrots
Punch Romaine
Asparagus salad with champagne saffron vinaigrette
Pate de foie gras
Celery
Chocolate painted éclairs
assorted fresh fruits and cheeses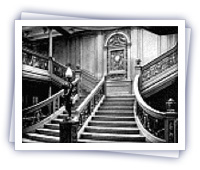 Of course, this necessitates service in the 'grand' style. Not only will you have first class cuisine, but everything will be served "à la française" with the help of a professional Maître D'. Needless to say this will be a Black Tie Affair.